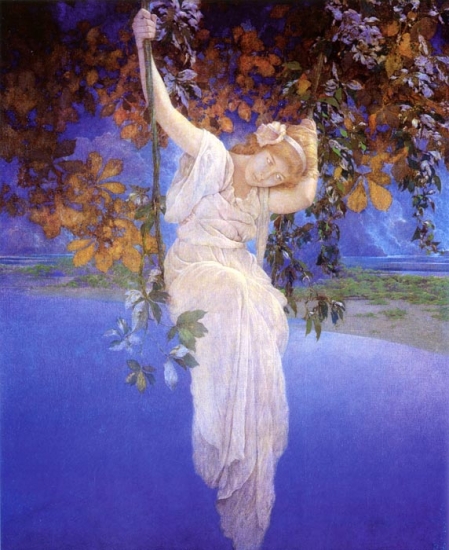 MAXFIELD PARRISH (1870-1966) HEY MY SISTER HAS A POSTER OF ONE OF THIS GUY'S PICTURES
He was born in Philadelphia, son of painter Stephen Parrish. His given name was 'Frederick', but he jacked 'Maxfield' off his grandparents because, come on, Maxfield just sounds so classy.
He was first commissioned to illustrate L. Frank Baum's Mother Goose in Prose in 1897, and went on to illustrate a great many popular children's books such as Arabian Nights, which are now of course all highly valued collector's items. He also drew covers for magazines, such as Life and Collier's! His paintings commonly featured chicks lounging around in Grand-Canyon-esque landscapes, and displayed strong neo-classicism influences. The color Parrish Blue was named after him!